ASBX Blanks – The Best offer in the Wholesale Market
 Luxury blanks wholesale – ASBX. We now have online our B2B Store! Supporting a wide range of items now available for wholesale. 
Luxury Wholesale Blanks – Once again, a massive market innovation, created by listening to our clients demands and needs. Every day we got hundreds of people that wanted to launch their brand, but again due to still high moqs and large upfront costs, it wasn't still possible. So we created a unique for portugal wholesale concept, allied with machine learning and on demand manufacturing, that now makes possible to have a substantially large range of items with reduced or zero moqs. This opens a new era for how high quality items are made available to startup brands.  
This offering is exclusive to ASBX among the best factories in Europe.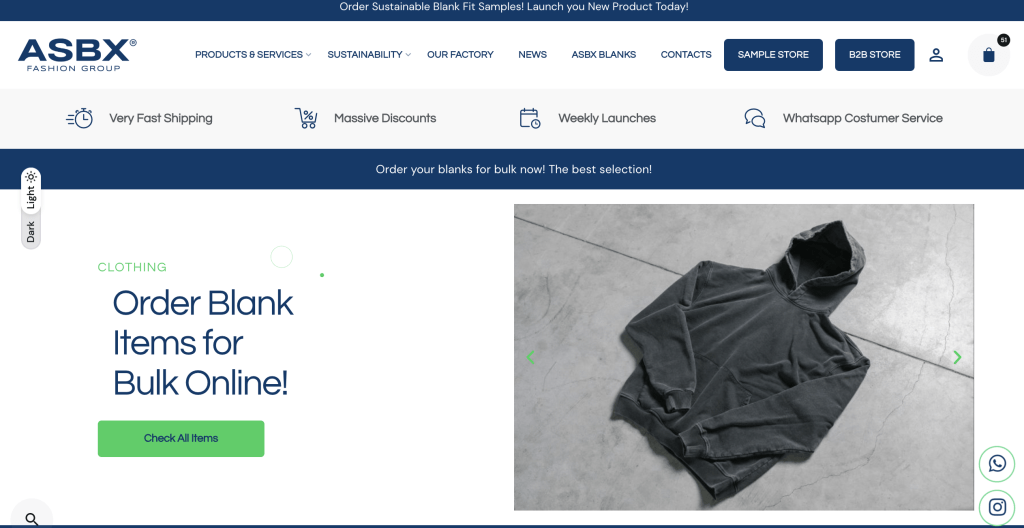 Largest Range available for wholesale with No or low Moqs!
ASBX is the only company In the sector working by trends, so we can always propose you the trendiest and products most likely to perform well sales wise! Also our color and sustainability offer is paramount with a full recycled product line, which is unique in the market.
Same Quality has any luxury brand!  Luxury blanks wholesale – ASBX
ASBX blank product is not a cheap item made in containers like merchandise! But a high quality / luxury product that rivals any top brand! The massive difference is the low or no moq!
Add your own branded tags!
At ASBX your even add your own personalized tags, even at no moq orders!